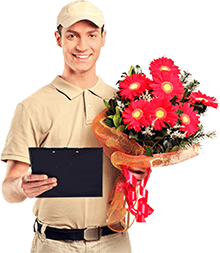 Free Delivery to all Assisted Living & Nursing Homes
in the Moreton Bay Region
𝐂𝐚𝐧'𝐭 𝐯𝐢𝐬𝐢𝐭 𝐲𝐨𝐮𝐫 𝐥𝐨𝐯𝐞𝐝 𝐨𝐧𝐞?
With all the restrictions for visitors to nursing homes etc. We are dedicated to help you stay connected with your loved ones during these trying times
We are carrying out all advice given to us regarding Covid-19 and practicing  𝙣𝙤 𝙘𝙤𝙣𝙩𝙖𝙘𝙩 𝙙𝙚𝙡𝙞𝙫𝙚𝙧𝙞𝙚𝙨.
 All required cleaning and care is taken within our shop and by our couriers to ensure no transition of C-19
Inline with the Social Distancing Guidlines:
Deliveries:
We are currently experiencing increased demand for many blooms, balloons and hamper orders, and our team continue to work tirelessly to fulfil orders, and at present we are still offering our same day delivery for the Moreton Bay Region.
Contact-Free Delivery
Limiting contact when delivering orders to recipients will help keep everyone healthy.
Home deliveries:
Our couriers will  knock so as to announce their arrival.
Our couriers will leave the flowers on the doorstep if safe to do so.
Our couriers will wait for up to two minutes so as to greet the recipient at a safe distance of at least 1 meter from the door.
All other delivery locations:
Deliveries to a Business, School, Hospital, Aged Care Facility and all other location types will be left at reception, if applicable.
By implementing this change we are acting to ensure that we minimise transmission as much as possible, protecting our couriers and the people they deliver to, while still continuing to deliver beautiful flower arrangements to Australians. 
Customer Special Instructions:
Further to this, Samantha's Flowers by Design is also encouraging customers to add special delivery instructions that may assist with a successful and safe delivery.
If you are concerned or have any questions regarding your delivery or anything else, please send us a message.