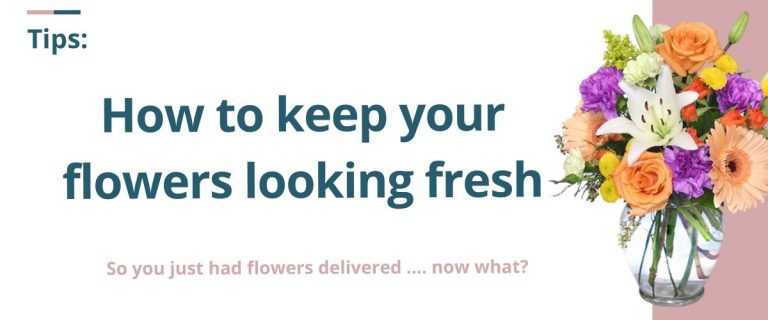 How to keep your flowers looking fresh
So, you just had flowers delivered to you, now what?
A bouquet of fresh flowers can brighten up any room, but before long, they start to wilt and die. Taking care of your flowers will help them last longer. With any fresh product, the way you care for them when you bring them home can make the difference in the length of vase life you experience.
Add 1 quart warm water to a clean vase.
Remove all lower leaves from flowers so there won't be any in the water.
Cut 1 to 2 inches off the stems at an angle while they are under water.
Arrange your flowers in the vase.
Display your bouquet in a cool, draft-free area. Avoid direct sunlight, which causes the flowers to die more quickly.
Change the water every other day and re-cut the stems each time.
Enjoy your long-lasting flowers!
Keep fresh flowers away from drafts and extreme temperatures, which can quickly dry out the flowers and cause wilting.
If your flowers came in plastic, remove this as soon as possible.
Do not place your arrangement near fruit or in the path of cigarette smoke. The ethylene gas is detrimental to many flower types.
Avoid placing flower arrangements in windowsills and other areas with full sun where flowers can wilt due to overheating.
Most flowers will last longer under cool conditions.